25th August 2014
Whenever I feel the urge to make something but don't have time to deal with the more fiddly elements of sewing, I reach for the neoprene. It's such a versatile fabric, and I'm sure I've mentioned before how much I love it because you never have to sew hems (winning!). A little while ago I crafted up this skirt in a matter of minutes – with virtually no sewing, it's a lazy girls dream DIY come true.
Wearing: DIY skirt, H&M knit, Mode Collective heels, Perfume bottle clutch (with lace lining inserted).
Thi project combines two of my fave skirt DIYs from the past – the circle and the scuba skirt. For this you only have to create one piece (that's right!).
You need:
2m (2.4 yards) of Neoprene
Scissors
a measuring tape
How to:
1. Start by cutting your skirt piece. To do this you'll copy the process I used to cut the skirt in this project. I've included the pattern from that skirt below for you reference. Basically you want to fold your neoprene in half and then fold it again, and then cut out a circle from the folded point which is the same size as your hips (or waist if that's where you want to wear it).
2. The best thing about neoprene is that it holds a bit of stretch – cut the circle for your waist a little smaller to allow for this.
3. You then war to cut the skirt hem in a circle shape. Make sure you cut the skirt extra long, particularly if you think you'll be wearing your skirt on your hips – when you put it on it's always short than you think it will be (trust me!).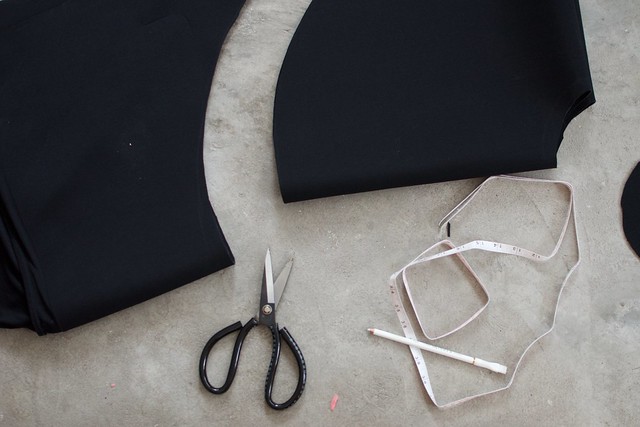 Because the neoprene stretches you can avoid having to do a zip or anything else time consuming like that, I don't think it gets any better than that does it?
Voila!
Outfit photos by Marion Tessier
22nd August 2014
I never would have guessed as I was signing up to blogspot from my share flat in London (using internet streamed from the upstairs neighbours) that creating this blog would be the best thing I ever did. However, sometimes I have to say that tapping away at a computer all day can be a little isolating. For that reason, I couldn't be happier to announce the launch of our new studio workshops! We held a little launch (and tester) over the weekend at the studio and it was a snowball of excitement, exhilaration and being utterly terrified at the same time. Luckily all went perfectly (thanks to my amazing team of Alanna and Kai) and it was so satisfying to meet so many lovely people – the whole chatting face to face thing has become unheard of in such an internet based world and I loved every minute of it!
For the first workshop we did our knotting school, teaching knots and creating gorgeous macrame hanging vases. Everyone was so shocked by how easy it was and how impressive their finished product ended up being. It helped that yummy food and drinks were flowing and the tunes got us into the rhythm of square knots and half twists!
Now that the studio is finally finished (before and after shots coming soon!) we'll be hosting loads more of these fun get togethers. We've already got dates for two new workshops including another knotting school and a business focused one called Blog What You Love (following on from the Do What You Love series). For those of you based in Hong Kong, you can buy tickets to our next workshops here sign up to the newsletter to be kept informed of what's coming up. See below for some pics from the weekend.
A big thank you to Lauren and the rest of the Sassy girls for all your help, we couldn't have done it without you!
Also thanks to Fish and Meat, Invisible Kitchen, Nice Pops, Ditto Ditto, Pyaar, Bee's Nest, Anything But Salads, Banrock Station
Photos by the lovely Sabrina Sikora
20th August 2014
Recently I've felt an urge to deck myself out in a few gold bows, maybe it's a nod to the final golden hours of summer, or the fact that I'm off to Japan this weekend where bows are practically a uniform, but I can't get enough of them. Recently I created this leather bow bracelet and couldn't wait to share! Read on to see how.
When I made this I experimented with different techniques, the first time sewing and the second time gluing like you see below. I found that the finished product was much better with the glued version, but of course if you have a few leather skills you should definitely stitch this using a dart awl to puncture the leather.
You need:
a gold bow
a piece of leather
a ruler
scissors
Or grab yourself this fun bow kit here, with lots of different bow jewellery to make.
How to:
1. Cut two pieces of leather around 1.5 cm (half inch) thick. The largest piece should fit around your wrist with some overlap, and the smaller one should be roughly half the size of the other piece.
2. Make holes for the stud beads (which will secure the leather on) at both ends.
2. Add the stud bead to one end.
3. Now, add glue to the ends of the shorter piece of leather on the right side of both ends.
4. Press the ends together onto the middle of the base piece of leather.
5. Add some glue to the middle of the loop of leather and then add the bow on top.
6. Put a piece of twine or string underneath the bows.
7. Carefully pull tight so the leather loop creates a bow and the metal bow is sitting in place. Let dry overnight and when dry remove the piece of twine.
Voila!
Love DIYing with leather? Grab yourself a leather kit to experiment with here.