26th September 2014
Woven bamboo baskets are an iconic element of everyday life in Hong Kong and Asia in general, obviously they were the vessel of choice prior to plastic knocking them off the top spot when it comes to holding stuff. But even so, there remains a tradition of hand made bamboo steamers (see what you can do with one here), bamboo pillows (yes really) and baskets of all sizes. My favourite stores literally heave with woven bamboo baskets of all kinds, many of them the perfect blank slate for a DIY enthusiast. So in this second (or third, or it is fourth?) episode of 'fun with bamboo' today I'm going to show you how to make a set of tied hanging baskets. Read on, it's super simple!
You need:
3 bamboo baskets, it's best if they are tiered in size (i.e. fit inside each other like russian dolls)
Rope (I went with dark pink rope to add a bit of colour to the design).
How to:
1. Cut your rope into three equal sized pieces. Starting with the biggest basket, push the rope through the sides and them underneath and bak up in the middle.
2. Do that with all pieces of rope and them tie in a knot in the middle.
2. Take a piece of rope and add another basket on top, making sure to leave enough room so there's space between the baskets.
3. Loop that rope through the top end of the basket twice to secure it. If you feel yours might slip down at all, simply tie a knot inside the basket at this stage – I didn't have to because my holes wedged the rope and kept it secure.
4. Do that for all of the rope. Done-zo!
Now fill with whatever you like – fruit if you put it the kitchen or spools of rope and hanging plants if you put it in the corner of your studio because craft.
8th September 2014
Working on the new studio has enabled a few realisations for me – namely that there's nothing more satisfying than the successful use of a drill. Just like my ladder wardrobe, these shelves cost almost nothing to make but utterly transformed the space – I'm a total convert to anything involving nails and wood! Read on to see how.
You need:
Four pieces of plank around 5cm (2 in) thick and 1.5 m  (1.6 yards) long
A measuring tape
20 m (21 yards) of thick raffia rope
10 cable locks
A drill with a wood boring drill bit
Scissors
Hooks from the ceiling (we had our carpenter install these when they were building the office)
Wrench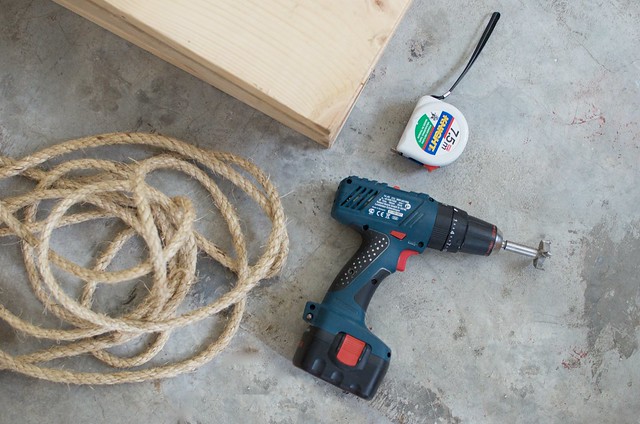 How to:
1. Start by drilling holes in all your wood planks – making sure to mark them correctly so that all the holes line up.
2. Cut four pieces of rope  to match the height from the ceiling to the floor. Tie that rope onto the hooks in the ceiling so that the four pieces hang down.
3. Then, starting from the topmost shelf, begin threading the planks through the wood – we actually used a ladder to prop them up while we were doing this. Make sure you measure between the planks so that the shelves are spaced evenly. Chances are you'll need two people to help you do this so that you can get the planks level.
4. Once you have added the first plank and propped it up (or got people to hold it for you), add the cable lock onto each piece of rope underneath the plank. Do this for the rest – we used a small table to prop up the bottom shelf.
5. Once all the planks are added and you are happy with the levels of them all, use a wrench to tighten all the screws so you don't get any movement and can place heavy items on the shelf.
Voila!
24th June 2014
Summertime is officially here, and what better way to celebrate than a piece of tequila sunrise inspired neck candy that you can make yourself? This nifty little number is another kit we've created, and I have to say it's one of my favourite projects of all time – easy enough to do but reminiscent of something you'd pay a packet for. Yay!
You need:
3 shades of large tassels
3 shades of embroidery thread
Black woven rope
Closed jump rings
1 sewing needle
2 large end caps
Open jump rings
1 lobster clasp
E6000 glue
Skewer
Or buy the kit here.
How to:
1. Cut 3 pieces of rope approximately 65cm long. Wrap tape around the ends to stop them from fraying.
2. Insert 6 closed jump rings over the 3 strands of rope positioned in the middle of the rope.
3. Insert the first tassel over the rope and move down next to the jump rings and start adding 6 more jump rings on the other side.
4. Loop the tassel around the rope 3 times until the tassel is secure. Repeat with the other two tassels.
This is what it should look like.
5. Measure 2.5cm (1 inch) away from the tassels and then add two closed rings. Then, measure 125cm (50in) of embroidery thread and thread this through the embroidery needle. To secure the thread, sew the needle through the middle of the rope.
6. Start wrapping until it is approximately 1cm (a half inch) wide and then hide the knot in the middle of the ropes.
7. Repeat wit the other colours and then measure another 2.5cm (1 inch) and do another set.
8. Add the neck clasps to the end by gluing the rope into the end caps and letting dry overnight, and then add the lobster clasps and jump rings.
Voila!
Ready for summer!
Wearing: J Crew bag, tank and sandals, DIY shorts, Daniel Wellington Watch, Thierry Lasry Sunglasses
Outfit photos by Marion Tessier