28th July 2011
A little while ago the gorgeous Brooke of The Style Net suggested we collaborate on a DIY project to be hand picked by you (remember here?). We got heaps of votes for the front pleated skirt option so I set about making one. I tried to make mine a little different to the original (cue a Clueless soundbite – Murray after shaving his head at 'the Val' party: 'cos I'm keepin' it real. 'cos I'm keepin' it real!') , whilst sticking to the general premise of the style. It was incredibly simple to make, so be sure to check out the tutorial here at The Style Net. I chose to pair the earthy caramel of the skirt with my favourite colour of the moment – blue, and some tribal accessories.
26th July 2011
Here's a pic of gorgeous Jas of
Friend in Fashion
looking
banging
in one of my rug skirt creations. I adore how she's styled it and don't her legs look amazing? 
Torill – torill.92@hotmail.com 
Congratulations!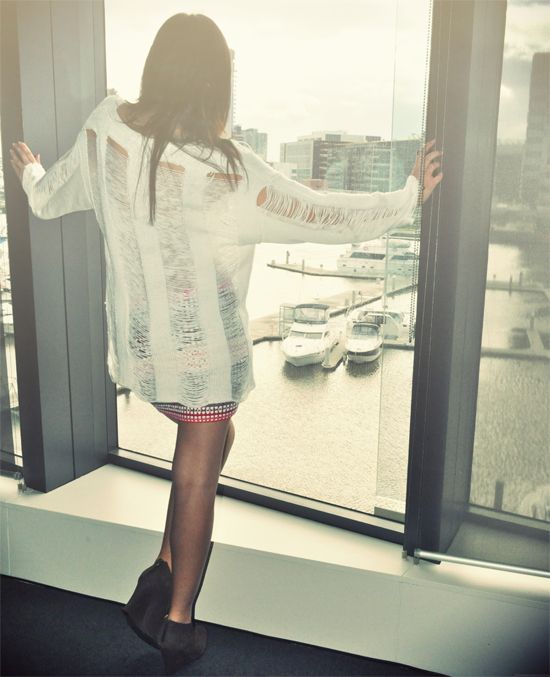 18th June 2011
You may have seen my recent How To Guide on how to stack your wrists 'arm party' styles. But maybe you're not content with just stacking and want to take your arm adornments to a fashion week worthy level? Well read on for a few extra rules for the stackage – that should have you snapped outside Somerset House and spirited away onto Style.com before you can say peony lim!
Colours
- Choose a base tone of gold or silver for your stack based on your watch or your taste – add bracelets, spikes and chains in this tone.
Go for Texture
– In addition to the hardware, add a few friendship bands, bits of rope, string or fabric and leather bands in a complementary palette (neons yes please) for texture.
Distribution
- Mix em up! Distribute the different elements discussed in my previous post randomly across your wrist – you want it to feel carefree and nonchalant.
Focal Point
– aka the USP (unique snapping point). This item attached to chain or string, be it a charm, button, globe, tassel or whathaveyou, should focus and surprise an onlooker. It hopefully gets their trigger finger a-twitchin.
More is more
– unless of course, if more is actually less. Once you've wristed your stack – take a long hard look. Does it feel fun and festival-ly or somehow overthought? Remove items if it looks like you spent too much time thinking about it.
Keep those hands busy
– Heaven forbid your wrists should just be dangling there or swinging when you're walking. Carrying items helps promote a sense of 'too busy to care about stacking' attitude – which is good if your wrists look like a Christmas tree. What should you carry? Invitations to top tier runway shows score points, as do busy looking blackberries and 'it'-bucket-bags. For me, the more random the item the better – the person who manages to lug a watermelon down to the Tulleries along with fully stacked arms gets my vote and hopefully some space on Mr Ton's memory card!
 Here's an example of a fun (and maybe even snap worthy?) armload.
How cute are the tiny geisha key charms? String them on some twine and away you go!
Need more arm party inspiration? Leandra of the Man Repeller posted here with a whole heap of instagram pics of her wristwear, Honestly Wtf is the place to go for DIY bracelet tutorials (I still have dreams about the hex nut bracelet) and Blair over at Atlantic Pacific always has prefectly stacked wrists. Happy stacking!